UK: +44 (0)1733 575200 Fax: +44 (0)1908 888775 sales@multisense-solutions.com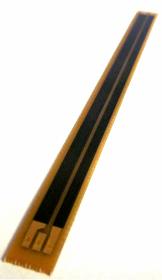 Conductive Plastic Technology
'Conductive Plastic' elements have been around for some time now and are proven to be the most successful and reliable form of Linear Potentiometer. Markets including Agriculture, Motorsport and Civil Engineering rely on its ability to withstand harsh environments and provide a long working life for the sensor...

FR4 circuit board material is chosen to form a smooth, high quality surface for the conductive ink, which is accurately screen printed over the board to produce the voltage divider element. The element is then cured at 220 degC which provides a stable and durable surface finish for the contact fingers. Advances in screen printing techniques allow our elements to be produced with independent linearity values better than +/-0.5% as standard, without the need for further laser correction...

As well as long life and excellent linearity, our conductive plastic technology offers an essentially infinate resolution, a high operating temperature and very low noise compared to similar products on the market. This is aided by the use of precious metal contact fingers, which divide the applied voltage as they move along the element...

Our 'Contact Fingers' are made from Pfinodal, which is a strong, conductive alloy made of copper, nickel and tin. The finger 'Tips' are Paliney 6, a precious metal alloy of silver and palladium, which provides a very durable and reliable contact to the element...

An important feature of the contacts is the multi-finger design. Four independent fingers provide contact redundancy within the sensor, as only a single contact is required to divide the voltage. The multi-finger contact method also helps reduce noise caused by high vibration and the spring loaded design helps prevent 'bouncing' at higher operating speeds. These are clear advantages over a single bar or 'knuckle' style wiper, often associated with Hybrid and Wire Wound technologies.


©2018 Multisense Solutions Ltd

Multisense Solutions Ltd, Unit 82 Papyrus Road, Werrington, Peterborough, Cambs. PE4 5BH, UK